Meier twins having early success for Duke cross country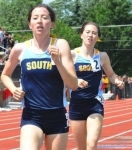 October 31, 2013
Ace high school Michigan Milers prepare for ACC Championships this weekend
By Ali Wells, Duke Chronicle
Freshmen Hannah and Haley Meier seem to be nearly the same person. The sisters are identical twins, so they are the same height, have the same dark brown hair and even sound the same. But the most striking similarity is that both have been key runners for Duke this season.
Haley jokes that she likes to play the piano and read while her sister likes to watch TV, but the pair share many of the same interests and feelings about their experience running for the Blue Devils.
"At Duke we don't have a lot of time to do other things," Haley said. "It's either running or school, so we aren't very different there. But we don't like all the same things. We just do whatever we feel like. We're definitely not the same person, but we do have some similarities."
Originally, the Michigan natives were not sure that they would attend the same college. While Hannah was leaning towards Duke, Haley was considering Notre Dame. But when they visited Duke together, they had the same reaction.
Continue reading at: www.dukechronicle.com