Mile high: Brassard peaked for the big meets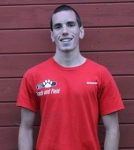 July 24, 2013
Coe-Brown Academy Northwood junior: "I love the Mile. It's perfect."
By Al Pike, Foster's Daily Democrat
NORTHWOOD, N.H. — For Jeremy Brassard it was go hard or go home.
That was the best chance the Coe-Brown Academy Northwood junior (right, Pike/Democrat photo) had of winning the boys 1600 meter run at the New England Outdoor Track & Field Championships this spring.
"I knew I wasn't the best kicker there," Brassard said, "so I had to get out fast and go hard.
"The last lap was pretty freaky," he said. "I took the lead and all I could hear was them coming up on me. With about 200 meters to go I'm thinking 'I've got a chance.' That was a pretty cool moment."
A cooler one was coming quickly. Despite his aggressive approach Brassard had enough left to hold off the rest of the field and win his first New England title in 4 minutes, 16.17 seconds.
"That boy will do whatever it takes to win," said Coe-Brown co-coach Brent Tkaczyk. "In this sport you have to dig deep, and he goes there."
Brassard edged Bryce Kelley of Rhode Island by 32 one-hundredths of a second.
"I was totally exhausted," Brassard recalled. "I think it took me a good half hour to realize what I did."
What he did was win his third straight Mile race at a time of the season when elite runners strive to peak.
"He went out hard at New Englands," Tkaczyk said, "but he didn't go out at a reckless pace. He didn't panic. He made a nice move with a lap to go. He just has that sense."
Continue reading at: www.fosters.com