My First Sub-4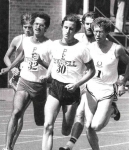 June 17, 1978
There was a lengthy pause as the three timekeepers compared their watches in order to come up with the official time, and then there was the announcement, "It has happened again!"
By Craig Masback
The quest for my first sub-4 minute Mile began on the streets of Rome and finished on Oxford's famed Iffley Road track, where Roger Bannister recorded history's first sub-4 on May 6, 1954.
A soccer player and sprinter / 880-yard runner at White Plains High School, NY, I ran about five miles a week, never more than a Mile at one time. My best high school Mile was a modest 4:48.
At Princeton, my transition to distance running was slow. Freshman year was rocky, but I ran a 4:03 Mile on a relay as a sophomore and a 3:42.3 for 1500 meters as a junior. When I ran 4:01.8 indoors as a senior, sub-4 seemed inevitable outdoors. But, forced to choose between finishing my senior thesis (and, therefore, graduating) and trying to break four, I chose the former.
The lucky recipient of a scholarship to study for two years at Oxford, I arrived in England in the fall of 1977 determined to explore new things, such as art history and travel, which meant leaving running behind. But, after reading Bannister's, The First Four Minutes, the best sports autobiography ever written, I decided that I wanted to win my "Blue" (the Oxford equivalent of a varsity letter). I ran just enough to make the Oxford Cross Country team, later discovering that the "Blues Match" against Cambridge was on a 7.5 mile, hilly course, a virtual marathon for me. We won the dual with Cambridge, I won my Blue, and I pretty much decided to retire from running.
Three weeks later, while visiting Rome for Christmas with my girlfriend, I decided to do a 15-minute Christmas Eve run to see the sights. Enjoying the run, I extended it to 20 minutes, then 30. Before I knew it, I was lost, running somewhat aimlessly around the darkened hills of the Rome countryside. During the more than two hours it took to find my way back to our pensione near the Vatican, I conducted a debate with myself about the merits of continuing with track & field, sometimes voicing my conflicting thoughts out loud in an attempt to find clarity, much to the amusement of the locals. At some point, the "give track one more try" argument triumphed. But for the worried and angry looks from my girlfriend upon my return, it was a memorable and significant night.
Having made the definitive decision to continue running track, my workouts all became more meaningful. Whereas the Princeton team motto had been, "If you're running too fast to talk, you're running too fast," I adopted the European approach of doing my distance runs at close to 5 minute per Mile pace. I also did some lonely but effective interval training on the Iffley Road now all-weather track. In my first track race that spring, I ran a 1500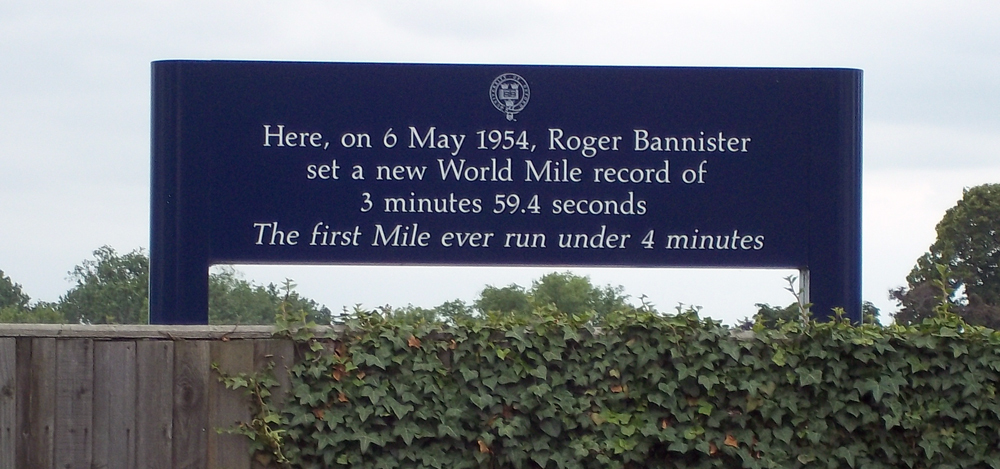 meters against marathoner Steve Jones. I don't recall the time, but I felt as if I had wings on my feet. The workouts and races that followed felt equally good, and I managed to win both the 800 and 1500 at the Oxford-Cambridge dual meet and recorded a PR 3:41 1500 in a small meet in France.
I was selected to run the 1500 for a combined Oxford-Cambridge team in a match against Penn and Cornell at Iffley Road. A week prior to the race, I read in the local paper that Sir Roger Bannister would attend the match to celebrate the retirement of the groundskeeper who had maintained the track when Bannister was an Oxford student in the late 1940s and early 1950s. I called the match organizer and suggested that since Sir Roger would be in attendance he should change the race distance to the Mile. He agreed.
The night before the race I went to dinner with some friends from the Penn team, including Tom Murray, an outstanding Miler who had been my nemesis when I ran for Princeton. When he asked about my form, I told him that I was in the best shape of my life. He said that he hadn't run for several weeks and offered to set the pace for me in the race, aiming to keep us on a sub-4 schedule. I happily accepted and bought him another beer.
The weather on race day – Saturday, June 17, 1978 – was fine in a mid-June in England kind-of-way, and my warm-up was relaxed. I was ready. As I laced up my first pair of Nike spikes (given to me by Geoff Hollister), I noticed Bannister sitting in the stands with my academic advisor at Oxford, Sir Norman Chester. Once the race started, Tom went straight to the front as promised and delivered laps bizarrely similar to those that Chris Chataway and Chris Brasher had run when setting the pace for Bannister – 57.5-2:01-3:03 – letting me go by after three laps.
The last lap was strange. Though there was a boisterous crowd in the small grandstand on the homestretch, there was no one on the far side of the track. As I ran down the backstretch it was eerily quiet and I was totally lost in thoughts of what breaking four would mean to me and my recollections of Bannister's description of how he felt running down the same backstretch — thoughts about a lifetime of working toward a single goal and an overall feeling of calm and contentment. I literally chuckled to myself at the similarities between my thoughts and Bannister's, some 24 years after his historic, still resonating run.
I don't remember much about the last turn and the homestretch. The crowd was enthusiastic, I felt full of run, and I knew after finishing that I had to be close to 4 minutes. There was a lengthy pause as the three timekeepers compared their watches in order to come up with the official time, and then
there was the announcement, "It has happened again!" I had become the first to break four at Iffley Road since Bannister, running a respectful 3:59.6 (#90 U.S. male sub-4), which meant that his track record of 3:59.4 would stand.
I was encouraged to join Bannister for a brief handshake on the infield, at which point he informed me that Sir Norman claimed to have been coaching me. The race was featured on the front page of the next day's Oxford Mail. A few days later, I received a hand-written note of congratulations from Sir Roger, and an invitation to a graduation party for his elder daughter at his London home the following weekend. I accepted, noting that I would need to travel directly from the English Championships (AAA's) at Crystal Palace to the party.
I ran a dumb race at the AAA's, giving up my position towards the front of the pack around the last turn before charging from seventh to third in the last 100 meters, losing a close race to Dave Moorcroft. I changed into a suit and rushed to the Bannister home, where I was greeted by his 15-year-old daughter, "Oh, you're the American chap. We just watched your race on the telly. My father said you ran a really stupid race!" To this day, I consider it a badge of honor that history's greatest Miler summed up my running career so succinctly.
EDITOR'S NOTE: Craig Masback recorded 30 sub-4s, including a best of 3:52.02 in 1979 (6th fastest individual performer ever at that time). He also won the 1980 USA Indoor Mile title, established an American record at 2000 meters in 1982, and represented the United States 10 times in international competition between 1976 and 1985.
After retiring as an athlete, Masback pursued careers in sports marketing, law and print & TV journalism. He has covered five Olympic Games for NBC Sports as a color commentator in track & field. He served as the CEO of USA Track & Field (USATF) from 1997 to 2008, where during his tenure, he tripled revenues, quadrupled sponsor revenue, launched a 10-event, televised series of domestic prize money track meets, and helped implement programs that substantially increased funds to and services for elite athletes. He also implemented USATF's groundbreaking Zero Tolerance anti-doping program. Masback is currently the Nike, Inc. Vice President of Sports Marketing for Greater China, Japan & Global Business Affairs.
The graduate of Princeton University and Yale Law School attended Trinity College, Oxford from 1977-79 on Keasbey Memorial and NCAA Post-Graduate Scholarships. Masback lives in Portland, Oregon with his wife, Sarah, a daughter, Grace, and a son, Britt.