Olympian runner Don Gehrmann looks back at his accomplishments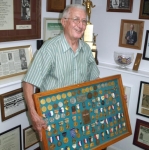 July 24, 2012
"I only ran for place. I never ran for time. The 4 minute Mile was mentioned, but I wasn't interested in it at all. That probably was a mistake because I could have done that. I could have done it had that been something I really wanted to do and used as a goal."
By Gary D'Amato, Milwaukee Journal Sentinel
PARDEEVILLE, Wis. - He retired from running nearly 60 years ago, so Don Gehrmann's accomplishments are mostly forgotten now, preserved only in yellowed newspaper clippings and brittle documents and in his own mind, where with minimal prodding he recounts races and rivals in vivid detail.
"Great memories," he says. "That's what they are. Great memories."
A house fire years ago claimed most of the trophies and medals Gehrmann won during his illustrious career, but what he managed to save takes up a good portion of the walls in his basement.
Now 84 but still spry and energetic, he proudly shows a visitor the framed photos and mementos and the stories come spilling out.
You know who that guy is I'm shaking hands with? That's Gen. Douglas MacArthur. He came to watch me whenever I ran in Madison Square Garden, probably because we were both from Milwaukee. . . The man shaking my hand in this photo is Prince Philip, the husband of Queen Elizabeth. That was after I set the world record in the 1000 yard run at the British Games. . . .
See the guy with me here? Maybe you've heard of him. His name was Jim Thorpe. . . This picture of me, I think it's one of the first color pictures that ever ran in The (Milwaukee) Journal. That was in '49. . . This is when I went into the Wisconsin Athletic Hall of Fame in 1981. I went in with Ray Nitschke and Bart Starr. That was a great honor.
In 1948, Gehrmann had just completed his sophomore year at the University of Wisconsin when he qualified for the U.S. Olympic team by winning the 1500 meters at the track & field Trials in Evanston, Ill.
Sixty-four years ago this month, he competed at the London Games, finishing seventh in the 1500 in what he calls "probably the worst race I ever ran." Heavy rains had turned the cinder track into a sloppy mess and Gehrmann was not a mudder. With his finishing kick and his ability to corner, he was built for racing on indoor wooden tracks.
"Whenever we had a muddy track, I was very much handicapped," he says. "The track was completely under water. And the last turn, I stepped on the curb and fell down and picked myself up again. And then I was too late for the sprint because these guys are the best in the world."
With the Olympic Games in London for a third time, beginning with the opening ceremony Friday and concluding Aug. 12, it's a good time to celebrate Gehrmann's career.
"There are a lot of people who never heard of me," he says.
Time, then, for a history lesson.
Continue reading at: jsonline.com