Plenty of Mettle but no Medal for Matthew Centrowitz in 1500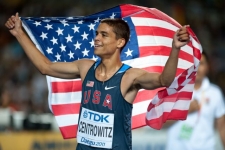 August 08, 2012
Matt Centrowitz shoots for the gold in the 1500 final but misses out on bronze
By Curtis Anderson, The Register-Guard
LONDON — Just like Steve Prefontaine 40 years ago at the 1972 Munich Olympics, former Oregon standout Matthew Centrowitz was going for the win on Tuesday night.
And just like Pre, he came up agonizingly short.
The 22-year-old Centrowitz finished in fourth place in a wild 1500 meter final, a mere four-hundredths of a second out of bronze-medal position before 80,000 fans at the London Olympics.
"Coming in here, I wanted to make moves that put me in for the win," Centrowitz said. "Not just trying to nab a medal at the end.
Continue reading at: registerguard.com