Queen of the Kick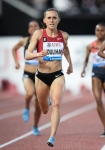 July 06, 2018
"I'd like to get the American record in both the 1500m and 5000m as well as the Mile and 3000m indoor American records. I'd like to win an Olympic gold medal and a World Championship gold medal..."
By Cathal Dennehy for Spikes
It's the most feared weapon in middle-distance running, and now that Shelby Houlihan has learned how to use it, she's daring to dream of the ultimate prize.
Late in the race, when she is scorching towards the finish, whirring her legs like a propeller, Houlihan creates an image in her mind.
"When I change to that last gear," she says, "I actually visualize shifting gears in a car and immediately try to increase my leg turnover. During that last 200 meters, I focus on increasing speed but still saving one last gear for the last 50 meters."
In middle-distance running, gold is most often mined by those with the best kick, and in that department the 25-year-old American possesses a gift of enviable quality.
At the USA Championships in Des Moines last month, she unfurled a 57.67-second final lap to defeat 2011 world champion Jenny Simpson over 1500m, then returned the following day and smashed a 13-second final 100m to take 5000m gold. More recently, in Lausanne, she powered away from the world's best 1500m runners to obliterate her PR and win, with plenty of room to spare in 3:57.34 (now #4 American woman all-time).
Her final 100m, run in 14.34, was more than a second quicker than anyone else in the race.
Houlihan was always fast, but the difference now, the thing that makes her a threat to anyone with the misfortune to see her sitting on their shoulder as they turn for home, is that she is strong.
Building the Engine
"Strength," she says is the secret to a great kick. "I've always had the speed, but I was never aerobically strong enough to use any of that speed at the end of races."
Continue reading at: spikes.iaaf.org