Rio Rico's Allie Schadler ranks as one of Arizona's best prep runners ever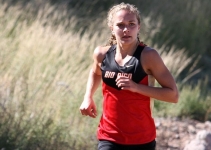 March 07, 2017
11-time state champion with Mile personal record of 4:43.18 owns five of the 15 fastest times in Arizona history
By Dan Engle, Camp Verde Bugle
It's a tall order for an Arizona athlete to enter the discussion of "the best ever" when it comes to girls distance running in Arizona.
Former Desert Vista standout Dani Jones, now a sophomore at University of Colorado, sits at the top of the heap on Arizona's all-time lists for 1600 meters, the Mile, 3200 meters and she's near the top of the list at 800 meters.
Then there is Alhambra's Kathy Gibbons, a pre-title IX runner who never ran for a high school team, yet her shadow may be the largest and most imposing of any on the history of girls distance running in Arizona.
Sara Gorton also earns a place in this discussion. Gorton, a 2000 graduate of Mountain Pointe High School in Phoenix, is only one of four Arizona high school girls to run 1600 meters in less than 4-minutes, 50 seconds, and she owns the state's second and fifth fastest times ever for 3200 meters.
And from a purely statistical analysis, Rio Rico senior Allie Schadler clearly belongs in the discussion of the state's all-time best female runners.
Continue reading at: www.cvbugle.com