Run Run Santa Mile expands to third location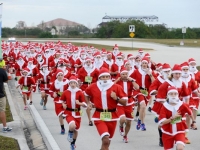 December 01, 2018
"You turn around and it's Christmas time and time for Run Run Santa. We'll be excited to see everyone in Santa suits, celebrating the holidays. Merry Christmas."
By Lyn Dowling, Special to FLORIDA TODAY
Before making millions of deliveries on Christmas Eve, St. Nicholas will have three special stops to make in the days prior as the annual tradition of Run Run Santa grows.
The race, which began in Viera and expanded to Vero Beach last year, has added a new stop: Orlando.
The red-suited frenzy that is Run Run Santa, which has drawn thousands of Mile runner / revelers to the streets of Viera and Vero Beach the last couple of years, will begin Sunday morning Dec. 16 in Orlando, to be continued on Saturday, Dec. 22 in Viera and Sunday, Dec. 23 in Vero Beach.
At least 1,000 runners are expected in Viera and Orlando and at least 500 in Vero Beach.
"We loved what happened at the first one in Viera, and then we went to Vero Beach because that is where (race director) Brittany (Streufert) is from," said Mike Acosta of Viera Pizza and Power of Pizza Charities, which hosts the events. "That went well too, and we thought Orlando would be ideal for us. We scouted a couple of (venues) and got to Blue Jacket Park, near Baldwin Park, which looked ideal to us."
Like St. Nick, 75-acre Blue Jacket Park has a history, its name having been derived from the bluejackets, or sailors, formerly seen there: It is the former site of Naval Training Center Orlando, bought by the city of Orlando in 2000. Acosta called it "perfect for us."
Continue reading at: floridatoday.com