Success runs in the family as another Cram goes for gold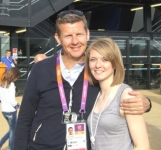 December 05, 2017
I started as an 800 meter runner. I was really nervous about standing at the start with the name Cram on my vest and then my name read out.
By Catherine Scott, Yorkshire Post
It seems that Josie Cram is following in her famous dad's footsteps as she represents Team GB on the sporting stage.
"I sometimes wish that dad had pushed me a bit harder to follow one particular sport," says Josie Cram. "I think he wanted us to make up our own minds, but I do wonder if I could have become an elite athlete."
Josie, 28, is daughter of three-time world record holder, Mile legend, Olympic athlete Steve Cram. But despite not being pushed by her parents, Josie, who has lived in Yorkshire for the last ten years, is now making her mark. She has become the next generation of the Cram family to represent Great Britain on the sporting stage. She has just qualified to represent Great Britain in her age group at the duathlon World Championships in Denmark next year. And her prospects for a gold medal look good, as she won silver at last year's World Championships in Canada, the same year she took up the sport. Duathlons are like triathlons, but without the swimming. The standard duathlon distances are 10K run, a 44K cycle and a 5K run – all on the road.
Continue reading at: yorkshirepost.co.uk