2012 Track Chats - Mary Cain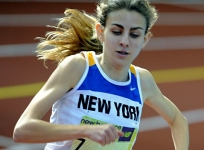 March 30, 2012
By Aaron Rich, MileSplit
Welcome to Track Chats 2012! We continue with distance sensation Mary Cain from Bronxville HS in New York. Mary has run 4:46.91 for One Mile and 2:06.44 for 800m. Watch out for Mary as the season rolls on!
MileSplit - When & how did you get started in track & field
Mary - I first got involved in track in elementary school. Our school had an afterschool program that my current coach, Ed Stickles ran. I joined the track team during the outdoor season as a seventh grader. Before then I had been a swimmer, so in eighth grade I swam during the fall. I came back though for the indoor season, and since then I have run every season.
MileSplit - Person/people most influential to your success in track & field
Mary - My family and coaches definitely are the most influential to my success in track and field. They are my biggest support team and without them, I never would have reached where I am today.
Read complete Track Chat at MileSplit.com.