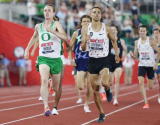 July 23, 2021
"I really want to make the final. That's a big goal. And then once I'm in the final, I think I just have just as good a shot as anyone."
By Sieg Lindstrom, Track & Field News
Headed to Tokyo as the youngest U.S. men's 1500 Olympian since Villanova's Marty Liquori in '68, Cole Hocker, 20,...
Read More
comments