$500 for 500th U.S. Sub-4 Mile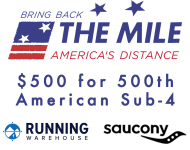 January 26, 2018
Presented by Running Warehouse & Saucony; also fan shoe giveaway predict the time contest
The United States, to-date, has recorded 494 American Sub-4 Milers and we're giving away $500 for the 500th American* to reach this milestone. For Mile fans, predict the winning time** in the form below for a chance to win a pair of Saucony Breakthru 4s and a BBTM prize package!

* The $500 prize will be awarded to the American post-collegiate Miler to run the 500th, or above, first track sub-4 (3:59.99 or faster).
** Closest winning time wins. Tie breaks will be decided by a random draw. Entries without decimal marks such as 3:59 will be treated as 3:59.00 or a 3:59.4 will be treated as 3:59.40.
The deed is done! Congrats to Emmanuel Bor as well as Coach Greg Bixel for correctly predicting Bor's Mile time: 3:58.77!
BU John Thomas Terrier Classic
Saturday, January 27, 2018, Boston, MA, 3:13pm ET
#500 Emmanuel Bor, U.S. Army WCAP 3:58.77 = $500
Want your Saucony Breakthru 4s now? Visit RunningWarehouse.com today.