A legend returns to inspire our youngsters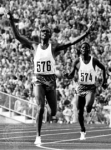 May 27, 2012
In his role as an ambassador for the Africa Week Athletics Meet, double Olympic champion Kip Keino will be at the Morton Stadium in Santry today.
By Ian O'Riordan
DUBLIN, Ireland - SWEET LORD they might as well be IN Africa as the sun beats down on the students of St Mark's in Tallaght. It's definitely a little hot to be running a Mile, at any pace, although it surely helps that the man watching them keep stride is Hezekiah Kipchoge Keino — better known to most of us as "Kip" Keino.
I can't imagine many of these youngsters fully appreciate how incredible he once was, yet in many ways every young Kenyan distance runner is still following in his footsteps. Keino wasn't Africa's first gold medal winner at the Olympics; he wasn't even Kenya's first. What he did was show the rest of the world was that Kenyan runners, whatever the distance on the track, can be the most amazingly smooth, versatile, and devastatingly quick. No one had those talents in greater natural abundance than Kip Keino, and with even the great Kenyan runners these days somewhat indistinguishable from each other, his legendary status remains unrivalled.
Continue reading at irishtimes.com