A life spent running: Brenda Martinez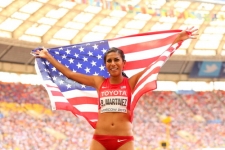 September 21, 2013
"Athletics saved my life."; "I belong here and know I can run with these girls."
By SPIKES Magazine
If you wanted to create a textbook to give to parents about why their kids should take up athletics, then pay attention to the story of Brenda Martinez.
From "humble beginnings" in the Californian city of Rancho Cucamonga, in San Bernadino County, Martinez was not born into a family of great wealth. At just five-years-old, her Mexican-born parents introduced her to the sport of track & field.
Since then, some 20 years ago, running has proved her guiding light, her rock and her inspiration. "Athletics saved my life," says Martinez.
"I know people I grew up with who didn't finish school," she says. "I'm not part of that because of my running," says Brenda, whose dad is a landscape gardener and mum a YMCA teacher.
"Athletics kept me distracted in a good way. It helped give me discipline, integrity, basically a good life."
Continue reading at: http://spikes-mag.tumblr.com