A New Look to the Minnesota Mile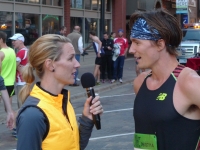 September 10, 2014
"Bring Back the Mile, Ryan Lamppa, has created this awesome circuit and really promoted it incredibly well through social media trying to get more attention for middle distance races particularly the Mile." - Jack Bolas, 2014 Minnesota Mile champion
From WDIO in Duluth, MN
When you think of Duluth and a summer foot race the legendary Grandmas Marathon probably comes to mind. This one is put on by Grandmas but is much shorter then a marathon.
John Carlson, Executive Director of Grandma's Marathon,"We have the all city which is the citizen runners, and after that we have the semi elite athletes, called the Duluth Mile and final two races are called the Minnesota Mile where we have our elite athletes, for men and women that have come from various parts of the country."
What some remember as a dreaded gym class activity others of all ages and skill level toed the finish line and took part in a one Mile run, bringing back some runners that never miss a Grandma's run.
Alex Nickleson, an elite runner from Duluth said, "the Grandma's series, all four events like the half-marathon, the full and all of the 5Ks. I run them all. "
Continue reading at: www.wdio.com