After the Mile run, UND hockey coach Brad Berry knew he had a team that would stick together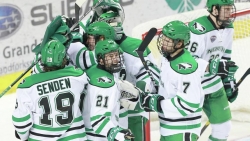 February 01, 2019
He zipped around the track in his final lap, with his encouraging teammates in tow, and crossed the finish line in 5:56. completing the 6 minute Mile challenge
By Brad Elliott Schlossman, Grand Forks Herald
The University of North Dakota hockey team gathered at Memorial Stadium at 8:00am on a Saturday morning this fall.
They were there for the last event of the Iron Man competition -- the Mile run.
Every player on the roster is required to run the Mile in less than 6 minutes. If they do not, they have to keep running it until they do. It's a test that goes all the way back to Gino Gasparini's days as head coach.
Some players are naturals and finish it easily. Others are not and it's more of a challenge.
On this year's team, 25 of the 26 players finished the Mile in less than 6 minutes on their first try. The lone player who did not, finished it in 6 minutes, 4 seconds
Close enough, right?
Not for UND coach Brad Berry and the staff. Rules are rules. There's no bending them.
"That's not what we do here," Berry said.
So, the following Saturday, that lone player had to come back to Memorial Stadium bright and early at 8:00am for another round by himself. The rest of the team got to sleep in.
That one player, whose name Berry didn't reveal, arrived by 7:45am for his second test. Athletic trainer Mark Poolman and the coaching staff joined him. The player stretched and got ready to try again.
Just before 8:00am, the team's captains walked into Memorial Stadium.
Soon, the rest of the team arrived, too. They all pulled up seats in the front couple rows of the stadium, near the 50-yard line. They all could have slept in on a Saturday, but they woke up early to support their teammate.
Continue reading at: grandforksherald.com