Air Force Falcons runner "breaks" 4 minute Mile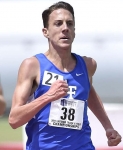 January 28, 2016
"It's pretty common knowledge that sub-4 minutes is a pretty big accomplishment and I've gotten a lot of congratulations from people."
By Brent Briggeman and Joe Paisley, The Gazette
Patrick Corona became the first Air Force runner to record a sub-4-minute Mile on Saturday, when he clocked a 3:59.77 at the Air Force Invitational.
The time is the fastest in the nation so far in the NCAA indoor track season.
There is, however, a caveat with that. Corona's actual time was 4:09.19, but the official recognized time takes into account a conversion for altitude.
"I'm definitely going to, at some point, try to actually cover the distance in under 4 minutes," Corona said. "But if the NCAA and the IAAF, which is the overarching track organization, think it's legitimate, then that's good enough for me."
Continue reading at: gazette.com