Alan Webb Reinvents Himself as a Triathlete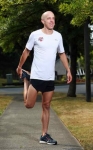 October 19, 2014
"I'm not the runner that I was, but I still have this opportunity for however long."
By Scott Cacciola, New York Times
BEAVERTON, Ore. — Alan Webb arrived at Portland International Airport last month and prepared to present his passport. He was scheduled to fly from Oregon to Denver to Houston to Istanbul and finally to Alanya, Turkey, so he could make his Olympic-distance debut in the triathlon. And he was flying coach.
There was only one problem: Webb, 31, had taken the wrong passport. The one that belonged to his 2-year-old daughter, Joanie.
In his continuing effort to reinvent himself as a triathlete, Webb — the onetime face of American track and field — has encountered lessons big and small. Forgetting his passport (and missing his flight) ranked somewhere in the middle of that sliding scale.
"The trip back was actually worse because a flight was canceled," Webb said.
It is not a glamorous life, but it has seldom ever been. For all of Webb's achievements as an elite middle-distance runner — the sub-4 minute Miles he ran as a high school senior, the records he stills holds — there was little nuance to his approach. The only way he knew how to train was to stretch his 5-foot-9 frame beyond the reasonable boundaries of human performance. All those flashes of greatness came at a cost, his career slowly unraveling amid injuries.
Continue reading at: www.nytimes.com