American Milers Club Interview with Sarah Brown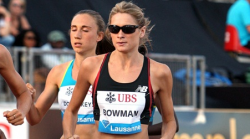 May 01, 2013
By Drake Sterling, Runnerspace
Sarah Brown excelled as an up-and-coming distance runner in high school as well as collegiately at University of Tennessee. While at UT, she was an SEC Champion on multiple occasions as well as NCAA Champion in 2009 in the Mile.
After graduating, Sarah was picked up by New Balance and trained with the goal of racing competitively at the 2012 London Olympic Trials. She would struggle however with ups and downs in her first couple years of competing post-collegiately. Ultimately though, she was able to train at a high enough level to race late in the 2012 season. With just a couple of races under her belt, Sarah traveled to Indianapolis to compete in the American Milers Club Meet on June 6th, 2012. In a great battle with Mason Cathey, Bowman was able to finish second, clocking a time of 4:12.58 and qualifing for the Olympic Trials.
In the Olympic Trials, Sarah surprised just about everyone, advancing through the qualifying rounds and finishing an impressive 6th place in the 1500 final. The finish motivated Sarah to take her training to a new level and has had the most healthy stretch of training in recent years. Just getting her season started, Sarah recently finished 4th at the USA Road Mile Championship in Des Moines, Iowa!
Continue reading at: runnerspace.com