An Unforgettable Ride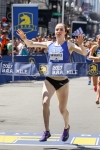 October 16, 2018
I'm not hanging up my spikes because I've reached all my goals and am finally fulfilled, but because I want to stop chasing those goals and turn my focus to everything I was given.
By Nicole Sifuentes, two-time Canadian Olympian
I wonder sometimes how running became my job. As a child I didn't have any aspirations to be an athlete - I just wanted to be good at something. But at the age of about 10 I discovered my natural affinity for running and fell in love with this sport. Bit by bit I kept moving through the ranks, working toward one goal at a time until I ended up a professional athlete. For the past 8 years my job has been to train, to travel the globe and to race against the best runners in the world while representing this incredible running company: Saucony. It has been the best job imaginable. I experienced the thrill of winning, the sense of triumph from setting a PR and the euphoria of performing my best in a clutch moment. Every day of "work" had such clear purpose - to experience those moments of success again and again.
Throughout my career I sought to reconcile that insatiable desire for success with the longing to accept all my results with contentment and satisfaction. I wanted to leave it all out there and then be at peace no matter the outcome. But that's just not an option. As an athlete, you can be pleased, encouraged and motivated. You can acknowledge progress and achievement, but satisfaction is the enemy of success. You cannot be complacent because there are always teams to make, medals to win and glory to achieve. Bad race? Keep working. Great race? Good job, but just imagine what you can do next. Keep working. Stay hungry. Never quit. And so my pursuit of excellence came with a sense of urgency and unrest.
This year started with one of those highs when I set a lifetime track best in the Mile (4:27.69) in my very first race. But as the season progressed I realized my motivation to pursue the highest level was gone. I wasn't excited about the World Championships in Doha next year or even the the 2020 Olympics. A quick glance at instagram assured me that all my peers were already traveling the #RoadtoTokyo, but I knew my heart wasn't calling me to join them. My road was coming to an end.
Continue reading at: blog.saucony.com