Anuare Magana desires to be great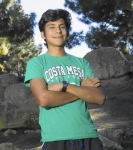 March 23, 2015
The Costa Mesa senior, who has run a 4:25.05 1600m, wants to be another special name in program's rich history.
By Steve Virgen, The Daily Pilot
Anuare Magana has heard the names from the past many times. The names provide motivation for him. They bring tradition to Costa Mesa High track & field.
Coach Steve Moreno is good about reminding Magana about the great athletes of the Mustangs' past. Moreno has told Magana about Zoila Gomez, Jasmin Day and the sensational Sharon Day among others who starred at Costa Mesa and went on to greater success in college and beyond.
"The history we have here, we have athletes and potential here that can be at the top [compared to other schools]," Magana said. "It's an inspiration for me to try to get to where they were too. I just need to work harder and work harder."
Magana, a senior, is a star distance runner for Costa Mesa now, no doubt. The potential to shine on the next level is there. The expectations not only come from big-time achievements but also from the hard work he continues to put in.
Continue reading at: www.dailypilot.com