Arise, King Cheserek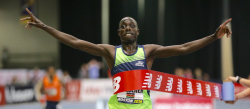 February 22, 2018
"That's the thing I've been working on, trying to put my name out there. Mo [Farah] is gone, [Bernard] Lagat is gone, so the younger generation is trying to get the position of those guys."
From SPIKES
From the outside, it can appear easy.
Ed Cheserek's career – and indeed his life – seems to ascend towards stardom without any hint of struggle, just an ordinary guy enjoying the benefits of a rare and special gift.
When he runs, the world sees his legs whirl like jet turbines, the wide, content smile that breaks out as he crosses the line, usually in front. With the effortless ease of it all, they might assume that here is a man whose talent insulates him from the hurt, the heartbreak, that the rest of us face in life.
Which, of course, it doesn't, and for Cheserek, like everyone else, things sometimes fall apart.
It's June 2017, and after the most successful distance-running career in NCAA history – with 17 collegiate titles to his name – Cheserek is standing on a stage at the University of Oregon ready to graduate with a degree in business. It's a proud day for the 23-year-old, and he beams a satisfied grin as he accepts the degree in his green robe, a golden sash hanging around his neck with two words printed on it, ones which have defined him for four years: student-athlete.
Two days later, Cheserek is preparing to take a well-deserved vacation after years of arduous work in both the classrooms and various running trails of Eugene.
"I worked hard, so I was trying to enjoy my life and take a road trip," he recalls. "But I was only three hours into it when I get a call from home."
It brought the most distressing news imaginable, and Cheserek pulled an immediate about-turn in his car when he heard it: back in Kenya his sister, Sheila, had passed away.
Continue reading at: spikes.iaaf.org