As obesity rate grows, survey finds most Washingtonians wouldn't walk a Mile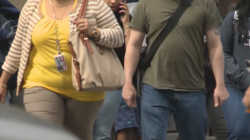 December 03, 2018
An astonishing 77 percent of overall respondents said they were too busy to do exercise and 74 percent said they are too busy to eat a healthy diet.
By KOMO Staff
More than half of the Washington state adult population would not walk a Mile to get somewhere they wanted to go, says a new survey that seeks to shed light on why obesity is becoming an expanding problem in the U.S.
The new report, by tech product review company Gear Hungry, surveyed 2,200 Americans to find out the limits of their physical activity.
In Washington state, 58 percent of those surveyed said they would not be prepared to walk a Mile and instead would prefer to jump in their car. The survey also found that on average, the longest Washingtonians would walk to get somewhere is 20.6 minutes.
In the United States as a whole, the survey found:
• More than one-third of adults would rather take an elevator than walk one flight of stairs.
• Half of people under age 35 can't remember when they last ran a Mile.
• Over one in 10 would not exercise more, even if their lives depended on it.
When broken down by gender, women appeared to be a bit lazier then men, on average, with 5 percent fewer women prepared to walk the Mile.
Continue reading at: komonews.com
State-by-state infographic HERE.