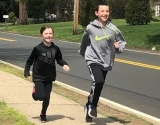 April 15, 2020
"They've been robbed of opportunities. This is a little carrot to get them out there."
By Nancy Haggerty, Rockland / Westchester Journal News
Gilby Hawkins had an idea.
With high school spring sports on hold and potentially canceled and runners at home, he wanted to give his Pearl River...
Read More
comments