At the Michigan Mile, new winners, repeat champions and Flint first-timers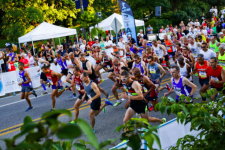 August 23, 2015
"Wow. This is a big deal. The city here is really behind this event." – Colby Alexander, Men's Open champion
By Aaron McMann, M Live
Tammy Nowik was caught off guard as she crossed the finish line Friday night.
The 41-year-old from Clarkston said she hadn't run a Mile since junior high yet she finished first in the USA Track & Field Masters Women's Championships division of the Michigan Mile Race Series that stretched along the University of Michigan, Flint, campus.
"I wasn't really sure how to race it," said Nowik, who finished with an unofficial time of 5:29. "I was worried because I'm doing the 10-mile tomorrow and I've never done a race before, the 10-miler, but it really doesn't matter what I do tomorrow. I'm pretty excited."
Continue reading at: mlive.com