Attic Salt: a look back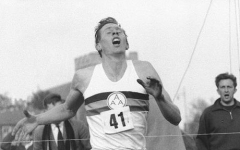 October 28, 2012
I didn't matter what the seconds were. Bannister was under four minutes.
By Ed Cullen, The Advocate
Roger Bannister, who ran the first sub-4 minute Mile in history in 1954, was the hero of high school middle distance runners in the 1960s.
Reading Neal Bascomb's book, "The Perfect Mile," has brought back the joyful and painful memories of running the half mile at Bolton High School in Alexandria the mid-1960s.
Bascomb's book is about the year leading up to Bannister's breaking what was called the four-minute barrier. The world record in the Mile is now almost 20 seconds faster than Bannister's time of 3:59.4, but it was once thought no one could run faster than four minutes.
The drama leading up to Bannister's remarkable run involved Bannister, a British medical student; Wes Santee, a Kansas college Miler, and another college student, Australian John Landy.
The Milers, competing thousands of miles apart, kept up with one another in press accounts and movie theater newsreels. Every time Bannister, Santee or Landy stepped onto the cinder tracks of the day, the crowds were sure they'd see their countryman be the first under four minutes.
When Bannister was the first to do it, the stadium announcer's voice was drowned by the roar of the crowd when he began to give the time "Three minutes … "
Continue reading at: theadvocate.com