Auckland's 'Golden Mile' Run Returns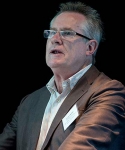 December 12, 2012
By Kelsey Fletcher, Auckland Now
Almost 30 years after running its last race, Auckland's Queen St Golden Mile is back.
The central city run is being reinstated next year by the John Walker Find Your Field of Dreams Foundation.
But in a twist it will be open to professional athletes, disabled athletes, young runners and teams to follow in the footsteps of the original champions.
Foundation chief executive Craig Pollock says the Queen St Golden Mile will be held on Easter Monday, April 1.
"Credit for the return of the Queen St Golden Mile goes to trustee Richard Walker, Sir John's son and new foundation chairman," he said.

''With Richard driving the project forward, we see it becoming an iconic Auckland event which everyone in the city can enjoy."
The first Queen St Golden Mile was won in 1972 by Kiwi Tony Polhill, who also ran the 1500m final at the Munich Olympics that year.
Afterwards, the event lapsed for 10 years but was revived in 1982 and 1983, before it was discontinued.
Continue reading at: stuff.co.nz