Australia's Mitchell Street Mile: The race for $35,000 cash stash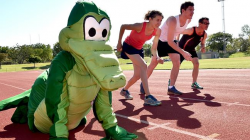 July 30, 2015
Darwin's premier race the Mitchell Street Mile on Sunday, September 20, is now Australia's richest middle-­distance event, with the first male and female runners taking home more than $7000.
From NT News
The 1609m race has a total prize pool of $35,000.
Athletics NT general manager John Bowden said the Mile was a great opportunity for local runners to race against some of Australia's best athletes.
"We're really working hard with five to eight top Australian athletes, many of whom are competing at the world championships next month," he said. "It's fantastic for them (local runners) because they can pit themselves against top athletes."
Continue reading at: ntnews.com.au