Back on track: Spokane Summer Games returns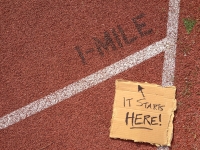 July 31, 2014
"The Mile, I think, is still magical." - Bob Maplestone
John Blanchette, Spokesman-Review
Bob Maplestone had covered three laps and, hearing the timer call out, "3-oh-1, 3-oh-2," thought to himself, "I'm going to do it today."
He had run under 4 minutes for the Mile before – once in winning one of his NAIA championships for Eastern Washington. He'd narrowly missed on another occasion at the Drake Relays, but consoled himself with a victory over the great Jim Ryun – though when a reporter phoned Maplestone's wife with the news, any cheerleader instincts gave way to bafflement.
"Didn't Ryun run?" she asked.
But as his competitive days segued into a teaching and coaching career, Maplestone hadn't dipped under 4 in four years when he toed the line for the Mile at the 1977 Pelluer Invitational on his old home track. His confidence surged as he accelerated through the first 220 yards of the last lap and into the final curve.
"And then I ran into the wind," he remembered. "By the last 50 yards, I was going so slow that I felt if I fell down and crawled it would be quicker."
He reached the finish in 4:01.4 – still the fastest Mile ever run in Spokane County.
Continue reading at: www.spokesman.com