Band of Brothers in The Last Frontier Make Mile History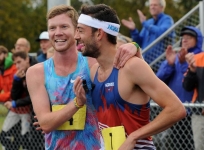 December 07, 2017
It's rare to root for someone as they're actively beating you, although this was a special occasion.
By Kyle Merber for Tracksmith
In late May, Trevor Dunbar texted me. A week later and we were sitting for lunch in Concord, Massachusetts ahead of the Adrian Martinez Classic. My ears were open to anything.
"I love what you do on Long Island and I want to do it in Kodiak. Bring you and a few of the guys up to Alaska and break 4 minutes there."
I remember being in his position. Three years earlier I had turned the idea of creating a race in my hometown into a reality. I sat alongside Brendan Barrett, my friend and future co-meet director as we presented our crazy idea to HOKA. Before we could finish pitching the details of our business plan, they were on board and the Long Island Mile was born.
Trevor didn't have a business plan, just enthusiasm. No one had broken 4 minutes outdoors in the 49th state. Most likely for two reasons: the weather and the distance. Elite athletes chase fast times. The summer months are spent burning through travel budgets desperately looking for an opportunity to go fast. That's why a faraway place known for variable conditions isn't generally thought of as a potential racing destination.
"After the race we'll go on an epic fishing trip and see some glaciers. It will basically be a vacation with a race."
The 2017 Long Island Mile featured 15 athletes who've competed in either the Olympics or World Championships. But favors were called in that first year to fill the field. One of the friends I reached out to was David Torrence, in whose memory the race is now named after. Not only did he come, but he won in 3:53.
It was my turn to pay it forward.
Continue reading at: journal.tracksmith.com