Bannister: Everest on the Track takes FICA Golden Achilles prize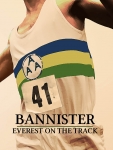 November 12, 2019
"The first full version came out in 2016 and then the film has been revised since then in 2018 to take account of Roger's death. We had many wonderful interviews and it was a case of weaving them together into a coherent film."
By Phil Minshull for the IAAF
The US-produced film "Bannister: Everest on the Track" has won the top prize, the Golden Achilles, at the second International Athletics Film Festival in San Sebastian, Spain.
The announcement was made on Saturday, November 9, after a week-long series of screenings in the Basque city and follows in the footsteps of "Town of Runners" which won in 2018.
This year's winning film looks at the motivations that inspired Roger Bannister to his historic feat of being the first person to run under 4 minutes for the Mile and puts it in a historic context of what it meant to the British public, coming as it did less than nine years after the end of World War II.
To quote from one of the reviews when the film was first released: "Everest on the Track is as much a historical study of Britain's psychological, if not almost physical, need for something – anything – to erase the woes of World War II as it is a fresh look at the quest for the first sub-4:00 Mile, the heretofore deemed physically impossible."
Among those interviewed during the documentary are Bannister himself, one of his pacemakers Chris Chataway, who was later to go on and break the 5000m world record, as well as U.S. runner George Dole who competed in the famous race at Iffley Road while a Rhodes scholar at Oxford University.
Also interviewed are spectators on that day more than 65 years ago, May 6, 1954, when one of the most well-known feats in sporting history was achieved, as well as journalists and historians along with future world Mile world record holders John Landy – with whom Bannister was in a long-distance duel to become the first man to go under the historic barrier – Sebastian Coe and Steve Cram.
Back to the beginning
"We first started thinking about the film in 2014 when there was the 60th anniversary of the 4 minute Mile," said the film's director Tom Ratcliffe, who was in San Sebastian to hear the announcement that his documentary had taken the top prize. "It's a feat that has a heritage and legacy unlike any other in athletics and perhaps sport as a whole. Roger Bannister's achievement is one that still resonates today.
"We were very lucky in so far as one of the first people we interviewed was Chris Chataway. He was wonderfully erudite, entertaining and enthusiastic even though he was very ill with lung cancer and sadly died not long after the interviews.
"Roger (Bannister) was a bit more reticent at first. Helpful, but reserved. I think he thought 'Oh, it's just another interview', but once he saw an early version of what we were doing, he then relaxed and was very generous. He said to call him whenever I was in England and I went to his house several times to do some further interviews.
"The first full version came out in 2016 and then the film has been revised since then in 2018 to take account of Roger's death. We had many wonderful interviews and it was a case of weaving them together into a coherent film."
"We had 15 different films in-competition: documentaries, short films, animated films," said the head of the FICA jury, Spain's two-time European indoor champion Sandra Myers. "It was very hard to decide between this film and El Gran Salto, the Mexican film that we awarded the Silver Achilles.
"El Gran Salto is a Mexican film about family values and support, and human emotions, and it is not an easy story to tell," added Myers, describing the documentary about the Mexican long jumper Luis Riviera.