Bayer Proves He Belongs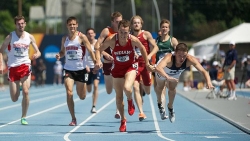 June 10, 2012
By Brian Hendrickson, NCAA.com
DES MOINES, Iowa – Nobody expected this four years ago. Not Andy Bayer's father, Robert. Not even Andy himself.
Throughout high school he was regarded as a solid, though not spectacular distance runner. He didn't receive any Division I scholarship offers. Robert Bayer even encouraged him to look at Division II programs. But Andy was convinced Indiana could make him a better runner.
"If you pull it off, I guess it's OK," Robert said at the time, concerned his son might be overwhelmed by the competition.
Instead Robert's the one who was overwhelmed on Saturday, patting his chest and trying to calm his nerves after watching what his son pulled off at Drake Stadium in the NCAA Outdoor Track & Field Championships. Trailing BYU's Miles Batty coming into the final straightaway of the 1,500-meter championship race, Andy steadily closed on the five-time All-American until they reached a dead heat at the finish line. Both dove across the line going after the win.
Andy laid out one-hundredth of a second quicker, winning his first national championship in a photo finish at 3:39.95, completing his remarkable rise.
"I came in confident and felt good," Bayer said. "Coming into the weekend I thought I had a chance and thought I could do it. I just tried to put myself in position to do that."
Andy spent years working to put himself in that position.
He played soccer and wrestled in addition to track and cross country in high school, but as a 94-pound freshman he was hardly imposing.