Blake Theroux, Elise Cranny Pace Field at Pearl Street Mile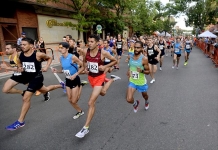 August 13, 2016
"I learned a lot, about staying more composed and calm. I could have been more aggressive. But this has been an amazing year and it is so fun to race with everyone here. This is my favorite race."
By Michael Sandrock, Daily Camera
It might not be the Copacabana beach in Rio de Janeiro, but the Pearl Street Mile in downtown Boulder made for a satisfying summer evening for Blake Theroux and Elise Cranny. Heading into the 2016 track season, both local runners had Olympic aspirations that did not pan out.
That meant Theroux, a 2015 University of Colorado grad with All American credentials, and Stanford junior Cranny, a former Niwot High School star, were in town to win their respective races at the always popular Pearl Street Mile.
Both races came down to sprint finishes, as close as any we are likely to see when the track and field competition starts in Rio. After the 800-meter kids' run and an open, citizens' Mile, Cranny lined up against a field that included West End 4K winner Mara Olson and several fast runners from local clubs Boulder Harriers, Hudson Elite, Revolution Running, and the Boulder Track Club.
Continue Reading at: www.dailycamera.com