Breaking 4 minute mark in the Mile puts Ross in special company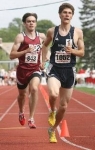 June 08, 2016
"It worked out perfectly... I've got a weight off my shoulders now breaking that."
By Bill Koch, Providence Journal
The 4 minute Mile remains one of those magical numbers in sports, a figure that sits alongside 50 home runs in a baseball season, 100 points in a hockey season or 1,000 yards rushing in a football season.
It's a dividing line between runners who are simply very good and the truly elite, a time chased by millions and cracked by a select few. Nick Ross knows this all too well, and it's a figure the former East Greenwich star can now happily discuss from both sides.
Ross dipped below the standard for the first time in his career on Thursday night, clocking a 3:59.73 at the Adrian Martinez Classic in Peabody, Mass. His sixth-place finish against a fast field at Emerson Park mattered less than the progress he's made after wrapping up his college career at Philadelphia's La Salle University just over a year ago.
Continue reading at: providencejournal.com