Carleo sets Port track Mile record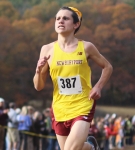 February 15, 2017
"It's pretty cool that the records go from Carleo to Carleo, and I know that Nick is very proud of Jack's accomplishments."
By Connor Whooley, Daily News
Newburyport's Mile record has changed hands, but it didn't go too far.
With a time of 4:13.17, Clipper senior Jack Carleo took the record from his brother Nick on Saturday at the Millrose Games at the Armory in New York City. Carleo finished fourth in the high school Mile event out of 12 runners.
Carleo now owns the 1000-meter and the Mile record at NHS, two accomplishments he can add to his long list.
"It feels good," said Carleo. "That was my goal for the season just to leave my mark in the record books. It feels good."
His coach, Don Hennigar, said the time may be the fastest Mile ever run by a Cape Ann League runner. Carleo also has the fastest Mile and 800-meter run by a Massachusetts indoor track runner this season and has the No. 2 time in the 1000m.
Continue reading at: www.newburyportnews.com