Catching Up with Donnie Cowart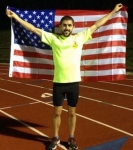 December 27, 2014
WMI 2008 grad talks about first sub-4 Mile, future racing plans and more
By Brad Salois, VMIKeydets.com
Recently, long-time VMI track SID Brad Salois caught up with alumnus Donnie Cowart '08, who continues to train in the hopes of qualifying for the 2016 Rio Olympic Games. Salois' Q&A with Cowart is below.
Q: Let me first ask you about your sub-4 minute Mile this summer at Sir Walter Miler in Raleigh. What was the reaction to that among people who follow your exploits?
A: I received a huge influx of congratulations and attention from friends, family and fans. It was a very surreal experience and I am very humbled by just how many people keep up with my journey. After 15 years of competitive racing and training, breaking the historic 4 minute barrier was definitely a dream come true. Every runner has the bench marks they definitely want to reach before they are done in the sport, and for me, that was definitely one of those goals. My next goals will be focused more on the 5K and the 3K steeplechase.
Q: More recently, you were 16th in the USA National 12K in November up in Alexandria. It's far from your first road race - Talk about not only the 12K, but getting more into road racing as a whole. Is that something you enjoy, and how do you feel it converts to on-track?
Continue reading at: www.vmikeydets.com