Catching Up with Jim Spivey: Part 4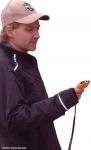 November 15, 2006
1990 to Present: Second & third U.S. Olympic teams, retirement and coaching
In an injury-plagued 1990, still with no green from ASICS, and not much more from racing, Jim needed another income source, but wanted to remain involved in the sport. He and friend Kevin Moore created the Jim Spivey Running Club (JSRC) in Chicago. It was a huge success, with over 1,000 people clamoring to be coached by the best Miler the Windy City had ever produced. Jim climbed to 3rd on Track & Field News' merit rankings, after clawing his way back to fitness for the last third of the European season, but the highlight of 1990, though, was the birth of Jim & Cindy's first son, Sebastian, named after British Mile legend and two-time Olympic champion Sebastian Coe.
1991 was a rough year too. Jim only finished 4th at the USA Championships 1500, won by Terrance Herrington, but made the team for the World Championships in Tokyo. But he didn't get to go. It was unfortunate, because a 3:52 Mile in 100-degree heat at the New York City Grand Prix meet early in the summer had Jim thinking about a U.S. record, and maybe the world record, at the Weltklasse meet in Zurich that August.
Spivey proved that he was on the right track during a five-race tear through Europe, which included a couple of sub-3:37 1500 clockings to warm up, and then a 3:49.83 (just 0.03 seconds off his PR) in the Dream Mile at Oslo. He finished 3rd, splitting 3:33.7 for 1500 en route, and was closing fast at the finish on the winner, Britain's Peter Elliott and Wilfred Kirochi of Kenya, but ran out of track.
And in Lausanne the next week, he placed 2nd in another loaded Mile, clocking 3:50.52, and losing only to Algeria's Noureddine Morceli. He won his last race at Rovereto, Italy, in 3:36.9, then headed home for some time with his wife, Cindy, and infant son, Sebastian. "In Europe, where fans recognize Spivey as one of the world's best middle-distance runners, everybody knows that Spivey's son is named after Sebastian Coe, Britain's great Miler," wrote the New York Times' Filip Bondy at the time. "Here in America, they think he's named after Sebastian the crab, from 'The Little Mermaid.'"
"No world record is easy to get," he told Bondy. "But I've run three races at a 3:50 pace within a week. I'm at one plateau now, and I think I can go to the next level and drop three or four seconds by September."
Steve Scott's 9-year-old U.S. record (3:47.69) appeared to be on thin ice, and seven weeks before the World Championships in Tokyo, Jim's 3:33.7 Oslo split ranked him #6 in the world, but a hip injury scrubbed any record attempts, however, and ended his season abruptly.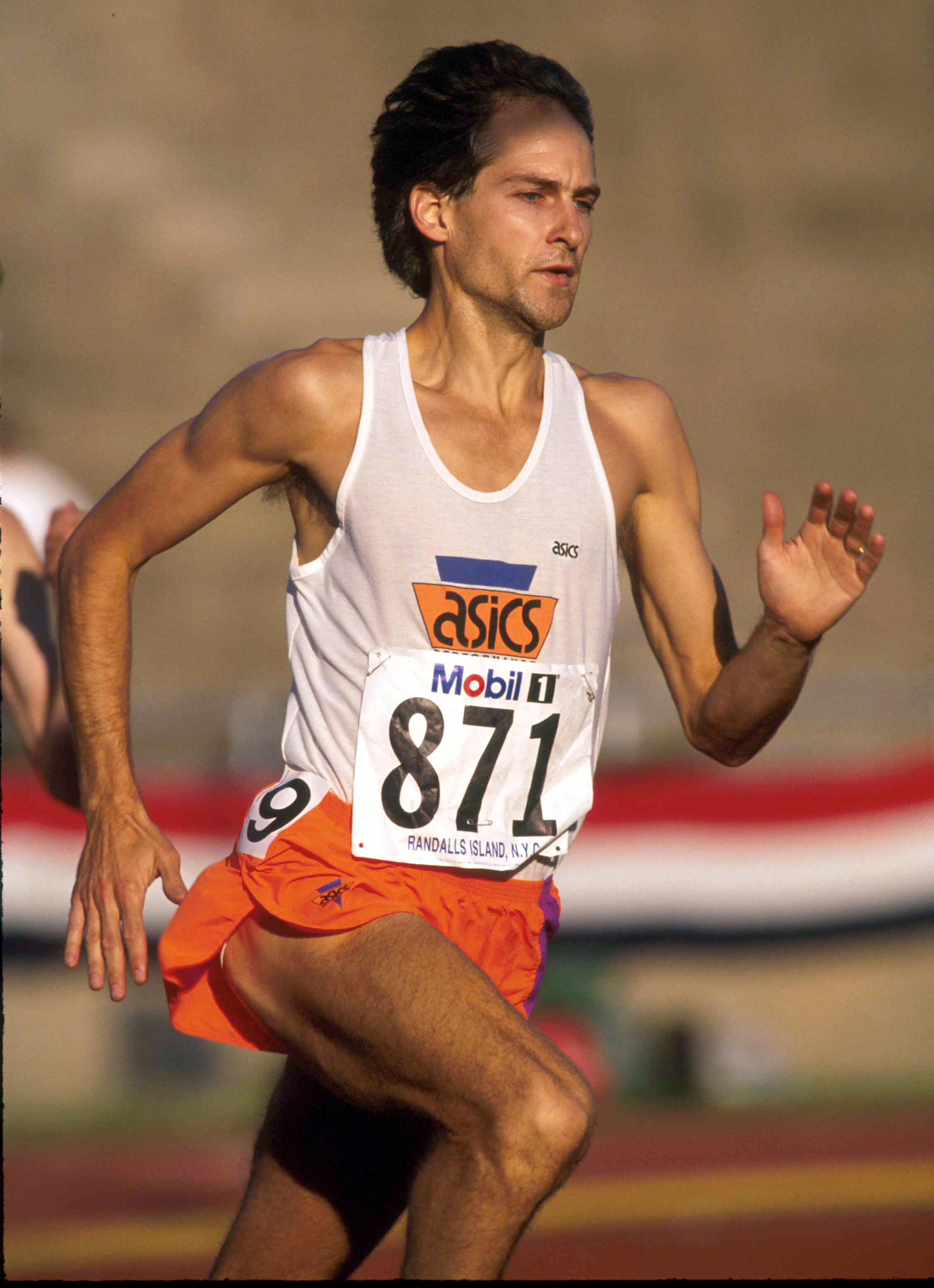 "It was very disappointing," he says. "The only good thing that came out it was that I started base training for the following year earlier, and so went into the 1992 season really strong." When the season was over, Nike asked him to return, and offered him a 3-year lucrative, incentive-laden contract. ASICS had only offered him a far lower 1-year contact. He went back to Jan Lester and asked if they could match it. They couldn't, or wouldn't, match it, but they did offer Jim a much improved package with a 3-year deal.
Back on a financial even keel, Jim set his sights on the 1992 Barcelona Olympics, but, despite being healthy and in good form, as the Olympic Trials in New Orleans approached, all the negatives of 1988 started to resurface. "Not making the Olympic team, going from making six figures to making $16,000, and then an injury-plagued 1989. My head was swimming with negative thoughts."
The Olympic Trials 1500m heats were on Monday, the semi-finals on Friday, and the final on Sunday. Plenty of time to recover between rounds. The problem with being in the hotel with all the other athletes during the week, though, was that the ones that returned to eat at the hotel were the ones that had failed to make the team. Those who had made the team were out celebrating with friends and family. The ones returning were people like Dan O'Brien, the favorite for the Olympic decathlon gold, who no-heighted in the pole vault. The restaurant in the hotel was awash with negative vibes. Just what he didn't need.
Jim decided to focus on what he could control, and used visualization of recent workouts, which had gone very well, anytime he became nervous. He and Durkin decided to make it a race where you had to be strong, leaving the sit 'n' kick runners out of the equations. They would not make the same mistake they had made four years earlier. "The night before the final," Jim recalls, "Mike told me: follow to half a mile to go. Run the next quarter in 56. And then with 200m to go, I want you to visualize people breaking into your home, and their names are Steve Scott, Joe Falcon and Terrance Herrington. What are you gonna do? Are you going to let these people come in and steal everything out of your house, or are you going to defend what's yours?"
So Jim visualized. The pace wasn't ball-breaking, but at least it was respectable. A 1:58 opening half still saw the pack together, but a 57-second third circuit (2:55.1 at 1200m) saw the contenders – Steve Holman, Spivey, Falcon, Scott, Herrington - file out like pearls on a string. And then with 200m to go, Jim thought about people breaking into his home. He got angry, fired up. He pulled away. It was working. "I tried it in other races, and it never worked," Jim says, "but that day I literally saw people breaking into my home. I was ready for a fist-fight. And I finished with one gear left unused."
After crossing the line, he sank to his knees and cried on the track while on all fours, the hardest he can ever remember crying. The pain of not qualifying four years ago had been dealt with, so he thought, but in reality it was just swept away into a corner, out of immediate recall. But in New Orleans, he says, "I put a dagger in that pain, and it was no more. Mike had prepared me mentally for that race and I applied it. In other races, he had prepared me but I never managed to apply it."
In Barcelona, Jim mad the Olympic final again, and finished a very respectable 8th in a stacked field. It was another sit 'n' kick race that saw strong pre-race favorite Noureddine Morceli of Algeria let the pace lag and let notorious kicker Fermin Cacho of Spain steal it in front of thousands of Spanish fans going bananas. No American runner has finished in the top 8 in the Olympic 1500m final since Barcelona.
Making the Olympic final would have netted Jim a lot of money with Nike, but he has no regrets about signing with ASICS, a company with whom he now has a 16-year relationship, "It's been great. Actually, I have always thought that it was a smart business decision for Nike to drop me at the end of 1988. I was 28-years-old and I didn't make the Olympic team. I mean, at 32, are you going to make an Olympic team and medal? Probably not. Why not go with Atkinson, the Trials champion?"
"Strictly from a business perspective, I agreed. But if we're talking loyalty and length of wearing and supporting the product (since being first approached by Nike in 1978 when Geoff Hollister asked him to run for Nike while a freshmen in college), I disagreed. But In the end, it has been the best outcome. I am still with ASICS today, and am able to help other college teams with purchasing ASICS product."
In 1993, the Spiveys' second son, Samuel, was born. Jim was third in a slow USA Championships 1500 in Eugene, won by Bill Burke, as the top four all finished within a quarter of a second, but got rolling later on in Europe, clocking 3:52.37 in the Dream Mile, a 7:37.07 3000m in Cologne, his lifetime PR and the 6th fastest of all-time by an American, and then a 3:34.67 1500 in finishing 9th at the Weltklasse meet in Zurich. And at the World Championships in Stuttgart later in the month, he ran solidly to finish 5th as Morceli was crowned world champ again.
In 1994, when the USA Championships were staged in Knoxville, Jim could only manage 6th in a slow, tactical 5000 won by Matt Giusto. But, later in the summer he clocked a 7:39.65 3000 on Monte Carlo and lowered his PR to 13:15.86 in Berlin.
As the 1996 Olympics in Atlanta drew closer, Jim realized that, at 36, he no longer had the speed to fare well in championship metric Miling and if he wanted to make his third Olympic team he'd better move up to the 5000 meters. "I moved up because I knew I just couldn't run fast enough anymore over 1500, especially with the way the races were being run," he explains.
In 1995, aged 35, Jim finished 4th in the 5000 at the USA Championships in a race dominated by fellow IU grad, Bob Kennedy, but then, a week later in Paris, clocked an eye-opening 4:59.19 2000, at the time the fastest ever 2000 for a runner 35 or over, as Morceli broke the world record, clocking 4:47.88.
In 1996, despite only finishing 4th again at outdoor nationals, Jim made the Olympic team at 5000 meters, after clocking 13:24 in Stockholm, but he was eliminated after running poorly in his preliminary heat. It was disappointing and Jim thought about hanging up the spikes, but didn't; he just found some new training partners.
In the fall of 1996, Jim began helping out coach Al Carius at North Central College, an NCAA Division III powerhouse in Naperville, Illinois. He was making a segue into a coaching career but continued to train, and was 4th at the USA 1500m Championships the following spring, finishing just 1.18 seconds behind winner Seneca Lassiter.
But at the end of the 1997 track season, Jim realized that as far as being a world class distance runner was concerned, the jig was up, and it was time to hang 'em up. His season's best? 3:40.09 over 1500. Not too shabby for age 37. But "there comes a point where you train hard, and say you are the 4th best runner in the United States, but realistically are not going to be any better," he says. "And what is 4th in the USA when you've been so much better."
"I remember Coe saying when you've been a WR holder, 'why would you train to run slower than that?' I never thought that, but realized that if I went over to Europe, I was going to get, like 20th place, and asked myself 'What's the point?" That being said, Spivey still kept on training, but without aspirations of racing the world's best. After all, there were other goals to chase, and his old nemesis Steve Scott, four years Jim's senior, was closing in on being the first Master to run a sub-4 Mile outdoors.
In September of 1997, Jim was hired as the distance coach at the University of Chicago, an NCAA Division III program.
In 1998, Cindy gave birth to the Spivey's third son, Simon. Jim was rounding into good shape by the fall of 1998, winning the Open section at the Notre Dame Cross Country Invitational, but a persistent calf injury kept punctuating his training with forced time off, and a bout of testicular cancer derailed Scott's Masters sub-4 campaign.
The next year, having hung up his spikes for real now, Jim began carving out national championships for University of Chicago's #1 female runner, Rhaina Echols. Echols won five NCAA Division III national championships - two in cross country and three on the track. Spivey's way of training was totally new to Echols, but she took to it right away. "He introduced the concept of fresh - running how you feel like running," Echols said. "I never would have imagined that serious college training would incorporate so much freedom and place priority on cooperating with the body."
The secret behind fresh, Echols explains, is that it's not necessarily slow; you don't want to psychologically overpower your body about its speed; you give your mind a break and let the body do what feels natural. This means you could actually run faster than you would if you were trying to force your speed when your body wasn't ready for it. And it means that your body has the chance to utilize the strength that it has built and is naturally ready to use, while never over-stressing.
"Of course, there were other levels of effort, such as good and very good, and once or twice a season we had to do some intervals hard," Echols recalls, "but every workout incorporated fresh intervals and set the mood to let your body have some fun out there."
"Spivey created very calculated plans for the build-up of each athlete's strength and endurance, so that we would peak for the day of the most important race. This he did every year without fail," Echols says. Indeed, under Spivey UC's women qualified for the NCAAA Division III cross country championships for the first time in the school's history. "He went so above-and-beyond as a person and coach," Echols says. "He would sit and chat while I jogged in place for an hour in the pool when injured; he coached me through mental blocks and frustrations; he decided to look toward a future and a long life of health rather than pushing us into unhealthy overtraining; he invited the whole team to his home for the first long run at the end of the summer; he remembered every split time of every workout for each year of training. His ability in this regard was uncanny."
"He devoted his life, his energy, his thought and all his available time to the team, and he dealt well with some of the hard issues of coaching women, and took it all to heart." After taking the job at UC, he quipped to Runner's World, "I might not coach any future Olympians here, but I may well coach a future Nobel Prize winner." During his tenure at UC, twelve athletes were named All-Americans. That's no laughing matter.
In the summer of 2001, though, he moved to Brentwood, just south of Nashville, after being offered the women's head cross country coach and assistant track coach position at Vanderbilt. Going from a Division III program to a Division I program in a powerhouse conference like the SEC was a jump into the deep end, but Spivey has never shied away from a stiff challenge.
In his first year coaching the Lady Commodores, the Spivey-led harriers tied their highest ever placing (5th) at the NCAA Regional meet. And the following spring Kylene Kwonurko won the 2002 SEC 3000m steeplechase title, the first SEC title ever for a Vandy distance runner. More importantly, though, nearly every team member established a PR during that first track season under Spivey.
The following year, Erika Schneble won the SEC outdoor 5000m title, clocked an outstanding 16:08 (a still-standing school record), and became the school's first ever distance runner to garner NCAA All-American on the track, and that fall Ashleigh Wetzel recorded the highest ever individual placing (5th) by a Lady Commodore at the SEC Cross Country Championships.
And he started a Nashville-based Jim Spivey Running Club. As in Chicago, local aspiring runners were eager to be guided by a track legend, and Jim could be found each Wednesday evening, juggling splits on half a dozen stopwatches, yelling encouragement from the trackside, and hard-wiring the concept of fresh running into his proteges.
Jim thoroughly enjoyed his coaching stint at Vandy, but in December 2005, he left to take a full-time position with ASICS. And in August of 2006, he, Cindy, Seb, Sammy and Simon returned to the Chicago area, moving to Wheaton, only a few miles from his old house in Glen Ellyn, and just a 45-minute run from the track at Fenton High.
Despite having moved away, though, Jim's influence as a coach remains strong in middle Tennessee. Aside from writing the workouts for JSRC's Nashville group, he has been writing the workouts for Independence High cross country runners, Kathy Kroeger and Josh Helton. Kroeger, winner of the Race of Champions at the recent Great American Cross Country festival, and a shoe-in to defend the AAA girls' state title she won as a freshman, is unbeaten by any Tennessee high schooler at any distance since her first day as a freshman at Independence, and will likely be in the top five runners at December's Foot Locker National Championships in San Diego.
Since Jim's retirement from competitive running, only one American-born runner has broken 3:50 for the Mile (Alan Webb 3:48.38 in 2005) and it took seven years for that to happen. Aside from Webb and naturalized citizen Bernard Lagat, no other U.S. Miler has even broken 3:53. Jim's retirement has certainly left a gaping hole on the American Miling landscape. But does he know how to help fill it?
"To run 3:50," he says, "you have to train at that pace. Not 3:40-pace! 3:50 is 57.5 per quarter, so you need to be able to float at that pace. Training at 53 or 55 pace does not help on the third lap when you get tired." Aah, floating at 57-per-lap pace. It's a nice image, isn't it? Gliding along, smooth as silk, at almost 16 miles per hour. Jim is so matter-of-fact about it, that he almost makes it sound possible for mere mortals like you and me. It isn't. But the principle is sound. "You have to put in numerous workouts at the desired and attainable race pace," he says. "And keep a training log."
Jim may no longer be living in Tennessee, but this legendary Miler has certainly left his mark - a very positive one - on the Volunteer state. Many former world class runners, when they can no longer perform on the big oval stages, remove themselves almost completely from the sport, but Spivey gives back to the sport with a seemingly limitless passion, helping runners of all levels. And, like many, I feel fortunate to have known him. As far as Milers are concerned, Seb Coe remains my hero. But Jim Spivey? He's a very close second.