Catching up with Michael Stember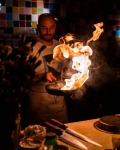 April 27, 2020
The Jesuit High legend, 2000 Olympian and now a successful restaurant owner, Stember's next project will incorporate both of his passions.
By Henry Krueger '21, Editor-in-Chief, Plank
While Jesuit High School in Sacramento is known for producing great runners, Michael Stember '96 was extraordinary.
One of the most talented runners in the history of California prep sports, Stember helped lead Jesuit's cross country teams to three consecutive state titles in 1993-95.
After finishing cross country in the fall, Stember carried the same dominance with him into the spring each year for track season. Named the Gatorade High School Track & Field Athlete of the Year in 1995, Stember made two USA Junior teams and won the California State Meet in 1995 and 1996.
Stember's 1600 meter time of 4 minutes, 4 seconds at the 1995 California State Meet was the state high school record before being broken in 2001. The time is still the school record, but Matt Strangio '20 unofficially ran 1600 meters with a time of 4 minutes, 3.57 seconds in a recent time trial.
Stember's epic performance at the 1995 California State Meet remains an awe-inspiring feat. A video of the race – posted 15 years after the event – has nearly 12 million views on YouTube. The video shows Stember suddenly breaking from the pack when he started his finishing "kick" with 600 meters still left in the race. Stember believes that very risky move was key to him landing a full scholarship to Stanford University.
Not just anyone can kick with 600 meters left in a race, it takes an exceptional athlete. Stember was exactly that according to teammate and friend Scott Abbott '96.
"He had a freakish mix of speed, endurance, power and explosiveness; it was like some sort of cheat code in a video game," Abbott said. "Never before had the sport of distance running had an athlete like him; he was arguably the best athlete on a campus full of great athletes. Our sophomore year, we were in the gym stretching after a rainy run; he took his shoes and socks off because they were wet, and then, while barefoot, he ran up and dunked his socks in the basketball hoop in front of the entire varsity basketball team (who were NorCal champs that year, incidentally). He was a 15-year-old distance runner, maybe 5'9"-5'10" max at the time and he could dunk… barefoot."
Aside from running, Stember played basketball and soccer, being named the Most Valuable Player of his freshman and junior varsity basketball teams. However, Stember listened to the advice of then-Athletic Director Chris Smart and decided to focus only on running for his last two years of high school.
According to Stember, Smart said something along the lines of, "Michael, I know you could be all metro, all section [player] in basketball and soccer, but you could be the fastest runner in the world if you actually train for cross country. And your Mom has sacrificed so much to get you to this point, it's time for you to choose the right path. Focus on your gift, focus on your running."
Stember's mother raised six kids and ran a daycare center out of the house to allow them to attend private school. She was also heavily involved with the school, designing and leading decorations for a number of Jesuit events including the school's annual Christmas Tree Lane.
After graduating from Jesuit, Stember continued his record-breaking runs at Stanford, where he still holds outdoor school records in the 800 and 1500m. Stember was also a member of the Stanford team that won the NCAA Men's Outdoor Track & Field Championship in 2000.
That same year, Stember made the 2000 Olympic team that would compete in Sydney, Australia.
With the Olympic Trials being held at Sac State, Stember made the team in front of a hometown crowd, something he appreciated.
"My hometown Sacramento crowd cheered me on so loudly that I felt it made a difference in that last 50 meters when I was completely maxed out," Stember said.
Along with the large group of fans cheering Stember as he ran, Sac-Joaquin Section Hall of Famer and legendary Jesuit Cross Country and Track & Field Coach Walt Lange was in attendance.
"[It was] a memorable day… when he made the Olympic team at the Olympic Trials here in Sacramento," Coach Lange said. "He became Jesuit's second Olympian, swimmer Jeff Float '78 having made the 1980 and 1984 teams."
Continue reading at: jhsplank.com