Celebrating International Women's Day with Doris Brown Heritage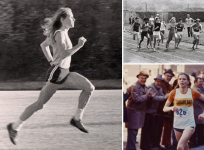 March 10, 2016
"One of my favorite track races was an indoor Mile in Vancouver, Canada... the Mile was a new race for women and so I had no experience, but our training and appreciation of the opportunity brought a win [and the first women's indoor sub-5 Mile]... that race seemed to give me a lot of confidence."
By Kristin Metcalf, Bird is the Word
Happy International Women's Day! Since 1995 President Clinton, Bush and Obama have designated March as "Women's History Month." Within the Nest we felt that it was only appropriate to talk to one of the most historical female distance runners in Washington State history: Doris Brown Heritage. Personally from the time that I started running in high school and then through the years that I coached high school distance runners, Doris has always been a running icon and role model for me.
Growing up in Gig Harbor, Washington and attending Seattle Pacific University from 1960-64, Doris was the first woman to run a sub-5 minute Mile indoors. In fact at one point in her running career, she held every women's national and world record from 440 yards to the Mile. She is a 5 x World cross country champion, 2 x Olympian, the first woman elected to the IAAF XC and Road Racing committee, and I could go on and on about her accomplishments. While coaching cross country one fall I remember passing Doris at Green Lake with a group of my athletes. I made our group stop and took a moment to point Doris out as she passed us: "Ladies that incredible woman that just passed us is known for many things, specifically she won the first three official women's races at the International XC Championship and if you were to start up a conversation with her she wouldn't brag about herself but what you would find within five minutes of talking to her that she is extremely passionate about this sport and is one of the most inspiring and positive women you'll know."
Continue reading at: www.oiselle.com/blog/