Centrowitz improves to silver at Worlds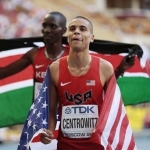 August 18, 2013
Back-to-back World Championship 1500 meter medals; "Getting silver to Kiprop is gold any other day."
By Chris Lehourites, AP Sports Writer
MOSCOW — As Matthew Centrowitz raced around the final bend, about to accelerate into his finishing kick, his dad's TV went blank.
Of the millions of people who watched the 23-year-old American surge for a silver medal Sunday in the men's 1500 meters at the World Championships, his father wasn't one of them.
"Our feed died with about 200 (meters) to go," said the elder Centrowitz, a two-time U.S. Olympic team member who was back home in Washington, D.C., and trying to watch the race on television at a local sports bar. "We didn't see the finish."
If he did, he would have been proud. Instead, he had to wait a minute or two.
Two years after coming out of nowhere to win the bronze medal at the 2011 Worlds in South Korea, Centrowitz did one better at Luzhniki Stadium — the same venue that his father, a 5000 meter runner on the boycotting 1980 U.S. Olympic team, never got to experience.
"This buzz cut is a tribute to him," said the younger Centrowitz, sporting a shaved head that makes him look a bit like a marine. "It's still weird coming into this country and this venue, knowing that he would've raced here, 30-some years ago.
"Getting that silver medal was sweet enough."
Centrowitz started off the race in the middle of the pack, but pushed his way up among the leaders with two laps to go. By the last lap, he was comfortable in third place, right behind eventual and defending champion Absel Kiprop of Kenya.
As they made the turn to the finishing straight and the TV in Washington lost its signal, Kiprop finally overcame Kenyan teammate Nixon Chepseba. Centrowitz, seeing his opening, followed right behind.
Continue reading at: www.mercedsunstar.com