Centrowitz Looking to Regroup in 2018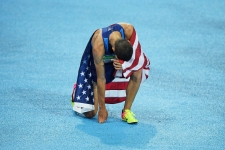 October 06, 2017
"Really, at this point it's not a secret: I'm going after PRs — so that means American Records. That's the next career box I want to tick off..."
By Jon Hendershott, Track & Field News
It can happen to the finest of athletes, even an Olympic champion: an all-conquering season can be followed by a less-than-satisfying year. Especially when injuries enter the equation, it can make for a frustrating, challenging scenario.
Just ask Matthew Centrowitz. The 27-year-old American kicked off his 2016 campaign by winning the World Indoor 1500 title in Portland. Then outdoors, he took the Olympic Trials victory before scoring the ultimate win: the Games title in Rio.
But the 2017 season was a different story: three leg muscle injuries hampered the Maryland-born / Oregon-trained Centrowitz, the dismal year ending as he placed 14th and last in his heat at the London World Championships.
But Centrowitz now is basically healthy and completely eagerly looking forward to 2018's action. He shared his thoughts with T&FN after spectating at a rain-swept Dellinger Invitational cross country meet:
T&FN: So, how are you feeling overall?
Centrowitz: Things are going well. I'm excited about this fall more than I've been in the last several years. Finishing school this fall; getting that burden off is a big thing. And working out with the U of O cross country team and helping coach there with [Oregon distance head] Andy Powell has been great.
That's a new thing for me and just the energy I feel at practice is tremendous. Just being around the young kids—here I call them "young"; I'm an old man now. [laughs] They just bring a different kind of energy to practice every day and it's contagious. It's rubbing off on me, so I'm just having a lot of fun with it.
Continue reading at: trackandfieldnews.com