Centrowitz ready for second chance at winning Olympic medal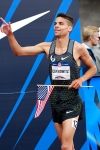 July 27, 2016
Broadneck graduate: "It's a better feel than back in 2012... (I'm) just a more mature runner, more seasoned, more of a veteran than in 2012. So (I'm) just using all those things to my advantage."
By Kai Reed, WBALtv.com
ARNOLD, Md. — Matthew Centrowitz just missed out on winning an Olympic medal four years ago during the Summer Games in London.
Now, the 2007 Broadneck High School graduate is ready for a second chance when he competes in the 1500 meter run for the United States in the 2016 Rio Olympics.
"Obviously it was a tough race, a tough pill to swallow," said Centrowitz, who is in Utah training for the Olympics. "I'm obviously looking forward to getting back to Rio and redeeming myself a little bit."
Along with training, Centrowitz just completed his fittings for the uniforms he is going to wear during the opening and closing ceremonies. Two weeks ago, Centrowitz qualified for his second Olympics as he took first place with a record time in the U.S. Olympic Trials. Before that, the Oregon Duck won a world indoor 1500m title in March.
Centrowitz said part of getting ready for a race is sticking to a routine, including a pre-race ritual.
"I like to listen to the same exact songs, a certainly playlist that I like and I never listen to a song unless it's before a race," said Centrowitz, whose playlist includes Lil' Wayne and Eminem.
Continue reading at: www.wbaltv.com