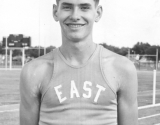 May 26, 2019
Less than three years after taking up the sport, then nearly quitting it, he was running on the biggest stage in the world.
By Jenni Carlson, The Oklahoman
Back in the 1960s, there weren't many athletes who were a bigger deal in our neck of the woods than Jim Ryun.
His exploits on the track...
Read More
comments