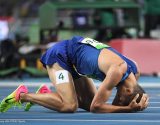 May 03, 2021
The fact that his winning time was the slowest since 1932 is irrelevant; it was racing entertainment at its finest.
From E. Garry Hill, Editor, Track & Field News
Time or tactics? Based on recent conversation on our Message Board, there are still those who think that Matthew Centrowitz's 2016...
Read More
comments