Peter Snell: Titan of the track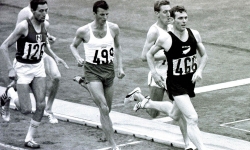 January 31, 2017
"My mental approach was not focusing on the individuals I couldn't control, but focus on myself. It normally worked out all right."
By Cameron Tucker, Athletics Weekly
Last year was a record-breaking one in sport for New Zealand. The island nation, renowned for its haka-dancing rugby team, secured its largest ever medal haul at the Olympics in Rio.
Four of those medals came in athletics, including a bronze in the men's 1500m for veteran Nick Willis, adding to his silver from Beijing.
Middle-distance running holds a sacred place in Kiwi lore. Since Jack Lovelock's 1500m gold in Berlin (1936), the country's medal cabinet has been kept full with gold from John Walker (1500m, Montreal 1976), Rod Dixon's bronze (1500m, Munich 1972) and Willis' double.
Although Lovelock's was the first on the board, the country's affinity with middle-distance running was truly established more than two decades later thanks to the exploits of Peter Snell.
Snell won three Olympic golds – the 800m titles in 1960 & 1964 and the 1500m also in 1964 – and broke the world record in the 800m, 880yds, 1000m and the Mile (twice). Not bad for someone who, as a teenager, would have been "happy to settle down as a provincial runner".
Having shown early promise as a rugby and tennis player, the Te Aroha-native shifted his focus to middle-distance running in his late teens.
After breaking into the Waikato provincial squad, Snell began to compete nationally. At one meet in Auckland, he ran the 880yds in a PB of 1:54:2. A chance meeting with an old school friend at this meet would change the course of the sport.
Snell recalls his friend "rushing down after the race and saying, 'You've got to meet my coach.'" The coach in question was Arthur Lydiard, the man who oversaw the nation's golden era on the track. He also incorporated endurance development and periodisation into his training routines, a turning point in the discipline.
For Snell, it was Lydiard's approach which really appealed to him. "He was so positive. He would say to me, 'You've got more speed than anyone else I've ever trained'." For a 19-year-old Snell, whose headmaster had told his parents he was an academic failure, Lydiard's encouragement was "music to [his] ears".
Continue reading at: athleticsweekly.com