Shannon Rowbury, living and breathing the Olympic dream, eyes 4th Team USA berth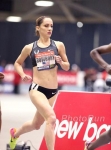 February 21, 2017
"You can't change the past but you can try to affect a better future..."
By Cathal Dennehy, RunBlogRun
Half a second - it's about the time it takes for an eye to blink, or for Steph Curry, the fastest shooter in the NBA, to release a jump shot. It's also the length of time by which Shannon Rowbury missed out on an Olympic medal last year, an agonising measure that could destroy the mind-set and motivation of the most formidable athlete.
But Rowbury won't let it. She's 32 now, a veteran of three Olympic Games, and she's been around long enough to know there's more to life - and indeed her sport - than the quadrennial five-ringed circus. Truth is, you wake up the day after the Games and regardless of the result, the sun still rises, the world soon stops caring, and the only sane way to carry on is for you to do the same.
Which, at times, can be hard. Take the 2012 London Olympics, where Rowbury finished sixth in the women's 1500m, a race now making a bold bid for the infamous title of the dirtiest race in history. Of the five athletes to beat her that day, four have fallen foul of anti-doping authorities. Only one, Bahrain's Maryam Yusuf Jamal, maintains a clean record.
Continue reading at: www.runblogrun.com