Cheserek to Chase History at the Dream Mile in New York City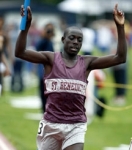 May 30, 2012
Junior hoping to join elite group with a sub 4-minute Mile
By Ron Jandoli, St. Benedict's Preparatory School
Edward Cheserek will be chasing a benchmark few have achieved when he headlines the field in the Dream Mile on June 9 in New York City.
As he toes the starting line at the Adidas Grand Prix at Icahn Stadium on Randall's Island, Cheserek will be joining some of the top milers in the country as he attempts to become just the sixth high school runner to ever post a sub 4-minute mile.
"Edward is a phenomenal athlete who has the ability to do amazing things on the track and inspire athletes nationwide with his performances," said Chris Hollis, Manager with Adidas. "He is a once-in-a-lifetime athlete who will undoubtedly rewrite the record books before he finishes high school. We are honored to have him participate in the Dream Mile for the second consecutive year."
Continue reading at sbp.org