College Basketball Game Includes Halftime Mile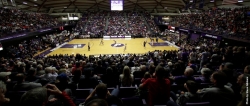 February 08, 2013
University of Portland hoops fans treated to midgame race on upper mezzanine track.
By Peter Gamaccini, Runner's World
Halftime at sporting events like football and basketball games can be tedious in places that can't afford Beyonce and all her pyrotechnics. Did you ever sit in one of those arenas and think, "Wouldn't it be cool if right about now a track meet broke out"?
It does--briefly, anyway--annually, at the University of Portland, where the Chiles Center, used for home basketball games, has a three-lap, six-and-then-some-laps-to-the-Mile track around its upper mezzanine. A Halftime Mile there has become, according to the university's Portland Pilots website, "one of the most popular in-game promotions."
Continue reading at: runnersworld.com