The Daily Mile craze in Britain takes on national obesity crisis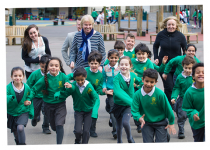 November 30, 2016
The idea is manifestly simple and inexpensive, which is perhaps part of the reason it has spread so rapidly… the real key to its success is that children enjoy it because it is a social activity in the fresh air.
By Karla Adam, Washington Post
LONDON — Torriano primary school in north London doesn't have lush green grounds or an outdoor running track or a leafy campus quad.
But on most days, its students do something that is being replicated in schools across the country: They put down their pencils, step into the great outdoors and run a Mile.
For one ruddy-faced 9-year-old who was breathing heavily after his run, the experience "makes me feel like I'm proud of myself" and means that "during lessons, I can concentrate a bit more." On a recent day that looked like autumn but felt like winter, he joined his classmates in lapping the perimeter of his Victorian school 12 times before heading back inside to get on with his day.
Every day, tens of thousands of school children across Britain — in addition to regular physical-education classes — run, jog or walk a Mile under a voluntary scheme dubbed "The Daily Mile". They don't change clothes. They don't compete. They don't know when their teacher will give the green light to rush outside.
But at some point during the day, come (non-torrential) rain or shine, children complete a Mile.
Continue reading at: www.washingtonpost.com