Dave Wottle Interview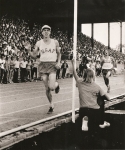 April 02, 2010
"Hands down I always preferred running the 1500 meters and the Mile... I loved the Mile, its strategy and the balance between speed and endurance."
From Gary Cohen, garycohenrunning.com
Dave Wottle won the 1972 Olympic 800 meter gold medal in Munich, Germany by 0.03 seconds in a time of 1:45.9. He set the World Record for 800 meters of 1:44.3 at the 1972 AAU Championships. At the NCAA Outdoor Track & Field Championships Dave won the 1500 meters in 1972 and the Mile in 1973 in an NCAA record time of 3:57.1. He raced his personal record Mile of 3:53.3 in 1973 to beat Steve Prefontaine at the Hayward Field Restoration Meet. In 1974 Dave joined professional International Track Association and competed briefly before retiring. He competed collegiately for Bowling Green University and won six Mid-American Conference titles in track and one in cross country. At Canton (Ohio) Lincoln High School Dave was State AAA Mile champion his senior year in 4:20.2. His PRs include: 800 meters – 1:44.3 (1972); 1500 meters – 3:36.2 (1973); Mile – 3:53.3 (1973) and 2 Miles – 8:40.0i (1973). Dave received the 1974 NCAA Top Five Award which honored five outstanding senior student-athletes. He was inducted into the USATF Hall of Fame in 1982 and Ohio Track Hall of Fame in 1974. Dave coached for a total of six years at Walsh (OH) College, and Bethany (WV) College. He has worked for the past 27 years at Rhodes College in Memphis where he is currently Dean of Admissions. Dave and his wife, Jan, of nearly 38 years, reside in Germantown, Tennessee.
GCR: With the perspective now of nearly four decades since your victory in the 1972 Olympic 800 meters in Munich, what has your performance that day contributed to your life as an athlete, leader and role model?
DW: We had a really good group of distance runners in the early 1970s. It was a fun time to be a middle distance runner in the United States. My life is totally different because of those three one-hundredths of a second that meant the difference between a gold and silver medal. I can't imagine how my life would be today without that happening. It opened doors that would not have been opened to me. There are speaking engagements, personal appearances and even earlier today I received a call from a gentleman who is setting up a seminar with runners who were known as 'kickers.' So almost 40 years later it is still an important part of my life.
GCR: I watched that race as a teenager and have viewed replays of it many times and it seems almost impossible that you were able to come from so far behind to pass so many runners in the home stretch. When you came off of the final turn did you envision winning or did you just kick and things fell into place?
DW: At the top of the turn I didn't see myself winning. My mind was like a little computer and with each step I noted how much I was gaining on the leaders as my mind continually recomputed my chances to catch them. So at the start of the home stretch I was aiming for a bronze medal. I just wanted to pass the first Kenyan and move into third place. When I caught Robert Ouko I quickly reevaluated my chances and set my sights on Mike Boit and the silver medal. It wasn't until about ten meters before the finish line that Yevgeniy Arzhanov started to fade and I thought I could catch him. When I look at the videotape it confirms that he didn't really fall off the pace until right at the end.
Continue reading at: garycohenrunning.com