David Torrence, Malibu Resident, Successfully Representing Peru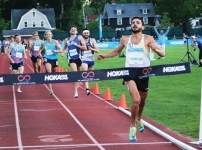 July 17, 2017
2016 Rio Olympian now holds Peruvian records for the Mile and the 1500 meters.
By McKenzie Jackson / Special to The Malibu Times
Middle-distance athlete David Torrence whisked into the Peruvian record books twice last month.
The Malibuite, a runner for Peru's national team, set the South American country's record in the Mile run on June 1 when he won the event at the Massachusetts-based Adrian Martinez Classic in 3 minutes, 53.21 seconds.
The Cal Berkley product also set a Peruvian record in the 1500 meters 17 days later, clocking 3:34.67 to finish eighth at the Stockholm Diamond League meet in Sweden.
The professional runner said setting records for the Latin American nation has been exciting for him, running fans in the country and the Peruvian Athletics Sport Federation, the governing body of athletics in Peru.
"I've been able to break some records and knock on the door for some of the South American track & field records," Torrence, 31, said.
Continue reading at: malibutimes.com